Saturday, 21 March 2009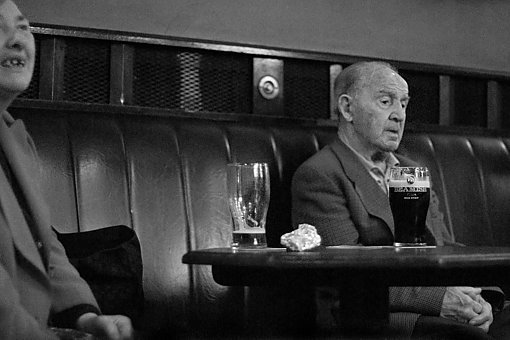 Here's one of my earlier pho­tos, after I had got­ten my first DSLR.

I shot this photo (secretly) in one of my favour­ite pubs in Dub­lin, the JJ Smyth's. Its upstairs part is fairly fam­ous, being one of the main Jazz loc­a­tions in the city; there are small gigs almost every day, and every now an then someone fam­ous plays there too. On the street level, how­ever, it's just "nor­mal", pub — but a very nice and ori­ginal one at that (i.e. with pretty much no tour­ists). Usu­ally, you can see some pretty cool, funky old folks hanging out there, down­ing pints of dark stout at a rate I could never keep up with (or afford, for that mat­ter)…

In any case, it was a very dark situ­ation, so I had put on my bright­est lens, a 50mm ƒ/1.4 and set the camera's ISO set­ting to the highest pos­sible value (1600) — this gave me a 1/​40s of a second (which is still "hand­hold­able", thanks to the sta­bil­ised sensor). How­ever, at the time, Sony was with their Alpha 100 even worse when it came to noise at high ISO val­ues than they are today, so the pic­ture had some really bru­tal noise in it.

So here comes the cheap solu­tion: Try con­vert­ing your pic­ture to black and white. Depend­ing on your cam­era, the noise may then look rather nat­ural and pleas­ing — adding to the "flair" of the pictures.
| | |
| --- | --- |
| Focal length: | 50 mm (≈75 mm) |
| Aperture: | ƒ/1.4 |
| Exposure: | 1/40 s |
No Comments »
No comments yet.
Leave a comment