Sunday, 19 April 2009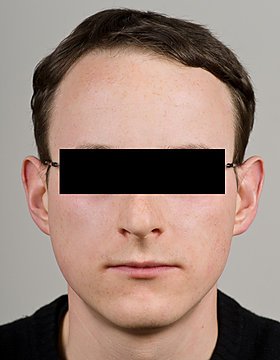 It's time again, I need a new pass­port and thus some up-​to-​date pho­tos of myself. Pos­sess­ing all that pho­to­graphic gear, why not try to make them myself? Last time I paid 11 EUR for them and the main street pho­to­grapher just used a trusty old Canon 350D with a cheapish Sigma 18-​200mm lens (from what I remem­ber, set to around 60mm i.e. 96mm con­sid­er­ing the 1.6x crop factor), plus some minor stu­dio equip­ment: In short, noth­ing a mere mor­tal couldn't repro­duce.

I then had a read up on the offi­cial specs of the Bundes­druckerei (the Ger­man Fed­eral Print­ing Office) and decided that the con­di­tions there aren't too hard to meet either.

So I set up my two stu­dio flashes with their soft­boxes in our liv­ing room, tethered the cam­era to Light­Room, grabbed a remote release, and off I shot. Here's a small making-​off shot. After about 10 shots of adjust­ing my head, I finally go the image right (as far as I can see).

Finally some pimple-​removing (this photo will be on my pass­port for 10 years, so a bit of van­ity is o.k.) and more import­antly: care­ful crop­ping accord­ing to the spe­cific­a­tions (35x45mm, with nose, eyes, chin etc. in appro­pri­ate loc­a­tions), and I was done. To get prints, I repro­duced the pic­ture eight times on a 6×4 can­vas and dropped the file off at the chem­ist.

While I don't know if the embassy will take it, I don't know why they shouldn't. I'll let you know if it worked!

UPDATE: It worked per­fectly fine. Iron­ic­ally, the guy on the counter next to me went to a local pho­to­grapher to get his pass­port pic­ture taken, and they rejec­ted it!
| | |
| --- | --- |
| Focal length: | 85 mm |
| Aperture: | ƒ/8.0 |
| Exposure: | 1/250 s + 2x D-lite 2 |
7 Comments »
Leave a comment