Sunday, 12 December 2010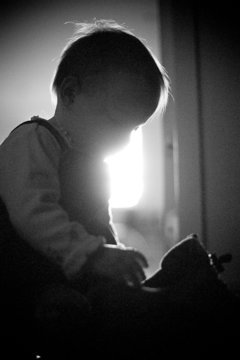 I think I men­tioned this in the past, but (provided you shoot RAW) you can save a lot of images. Take this one for instance, which was badly under­ex­posed (I wanted to take this pic­ture quickly, but the cam­era was still in manual mode and the expos­ure was set for an out­side scene).

Any­way, usu­ally I delete pic­tures like that right away in cam­era, but when the little one's in it, I try not to be too delete-​happy — you never know.

And indeed, bring­ing the expos­ure up three stops (!) and thanks to the amaz­ing dynamic range of mod­ern digital cam­eras, there she is. Of course, push­ing the expos­ure by this much brings in a ton of noise, but remem­ber the old trick of turn­ing the image black and white in such cases, and it usu­ally won't be that bad. To the con­trary, it gives this lovely "ana­logue" charme to the pic­ture.

I will post a few more pic­tures /​notes about back­light­ing, but like in this shot I'm a big fan of a strong light source (read: sun) peak­ing from behind the main sub­ject, pro­du­cing some light spill /​flare and, more import­antly, some a nice, defin­ing rim light.
| | |
| --- | --- |
| Focal length: | 50 mm |
| Aperture: | ƒ/2.0 |
| Exposure: | 1/2000 s |
No Comments »
No comments yet.
Leave a comment