Friday, 18 May 2012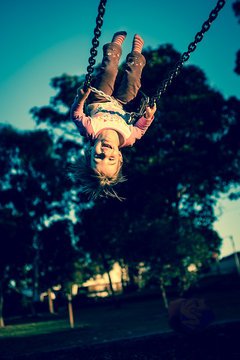 Kids are fun. Swings are fun. Swings (tend to) swing in a very reg­u­lar, pre­dict­able way. Espe­cially if the legs of the per­son on it aren't long enough to touch the ground ;-)

Any­way, thanks to the reg­u­lar motion, it's quite easy to get the tim­ing right to take a shot just at the right moment. In this case here, it was the point where Sophie was at the highest, so very little motion, but great "upside down" effect (as I shot upwards from very close to the ground).

It was also easy to get the focus right by just focus­sing once and then switch­ing to manual to pre­vent the cam­era from re-​focussing. This was cru­cial as I chose a very shal­low depth of field in order to get those trees in the back­ground blurred. I wanted to keep them in the frame as a dark back­ground for bright Sophie, but blurred so they don't dis­tract and she "pops" out a bit more (which is also helped by the sun­set light com­ing in almost hori­zont­ally).

But the gist here is not to take pic­tures of kids on swings, but gen­er­ally to watch out for any reg­u­lar type of motion /​tim­ing which can make your life a lot easier in find­ing that one "per­fect" moment.
| | |
| --- | --- |
| Focal length: | 35 mm |
| Aperture: | ƒ/2.0 |
| Exposure: | 1/1000 s |
No Comments »
No comments yet.
Leave a comment