Sunday, 17 June 2012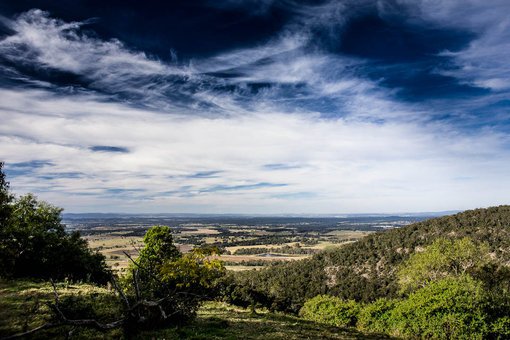 We recently drove up to the Hunter Val­ley, a fairly renown wine grow­ing region less than an hour's drive away. That's a great thing to have :-) Count­less little wine estates and cel­lar doors to try wine at a decent enough prices. Good fun!

The tour also took us by this little lookout that offered some lovely views over the val­ley. Unfor­tu­nately, it was a semi-​overcast day, and the first ver­sion of this shot pretty much just had a grey blob of sky at the top. The small little bits of blue sky didn't come out at all. Thank­fully I packed my polar­ising fil­ter, which was the first thing I tried out. And wun­derbar, it did indeed darken down the blue bits some­what so they they could actu­ally be iden­ti­fied as such.

But there still was a fairly large dif­fer­ence in bright­ness between sky and ground. So I put on the second fil­ter I own (and that's the only two I have): a gradu­ated neut­ral dens­ity fil­ter. It's designed to be used with the Cokin fil­ter sys­tem, but I pretty much only used it free-​hand (so just hold the square fil­ter by hand rather than with the fil­ter holder). Much faster that way, and pretty much same res­ult, if you man­age to coordin­ate hold­ing the cam­era, adjust­ing the fil­ter and oper­at­ing the shut­ter at the same time ;-)

What that fil­ter did was bring down the bright­ness of the sky a fair bit, but leave the ground untouched. As the name sug­gests, it's a fil­ter which is neut­ral dens­ity on one side (so just makes things darker), and clear on the other, with the smooth trans­ition (gradu­ation) in-​between so you don't notice it that much (it's the first fil­ter in this list). A very handy tool to have in your photo bag!

Sprinkle a ton of "Clar­ity" dur­ing raw devel­op­ment on top and and that's how I got these fairly dra­matic skies from the fairly bland look­ing light grey blob the sky was at the time.
| | |
| --- | --- |
| Focal length: | 24 mm |
| Aperture: | ƒ/5.6 |
| Exposure: | 1/60 s |
No Comments »
No comments yet.
Leave a comment