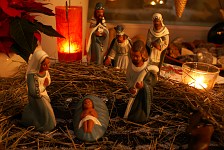 With this nice little Christmas scene that I took this afternoon I would like to wish you all a Merry, Merry Christmas.
Enjoy a few quite days with your family and loved ones, let go of the stress once and relax … Also, hope you get some nice presents and at least a hug from everyone that loves you.
Speaking of love, that is without any doubt the greatest gift for me this year … More on that later. Anyway, so have a good one, talk to you soon,
Florian :-)
A wise man will make more opportunities than he finds.