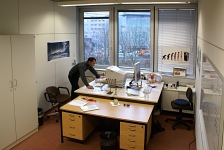 Finally I'm getting around to telling you about my new work place. As you might know, after graduating I've started to work at the Technische Universität Berlin.
My first task was to redo the horrible, old website of the institute. It's important to have a good web presence, as many sponsors usually first take a look at the web page to learn a little bit about the place — and if that web page is already untidy, ugly or out of date, then it obviously leaves a rather sloppy first impression. Based on the MediaWiki software, this is what it looks like now :-)
Anyway, I though I finally show you a photo of my new office. The dude on the left is my lovely office mate Raafat, and Egyptian Ph.D. student who's just arrive. The photo was taken with my new camera by the way, which I'm super excited about… I'll tell you more about it later.
I became a professional fisherman, but discovered that I couldn't live on my net income.