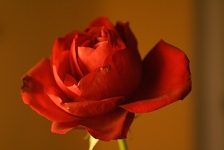 As I told you, I got myself a new, decent camera. It's a Sony Alpha 100, Sony's first DSLR (Digital Single Lens Reflex) camera. Well, "first" is not entirely true, as at some stage Sony bought Minolta of course including all the intellectual property…
Anyway, I'm super-happy with it, it's just so much fun to use and the pictures are great. I know that's rather superficial and subjective, but who of you really cares about more details ;-) Along with the camera I got the standard Sony 18–70mm lens, a 70–300mm Tamron zoom/macro lens and an old Minolta system flash, besides a bag and some memory.
What I like most about the camera is the built in anti shake system. It physically moves the sensor in opposite directions of your shaking and allows you to take pictures (depending of course on the focal length and how well you can hold still) of up to 0.5s of exposure without a tripod, i.e. from bare hands! That way I could take some nice, crisp shots in low light conditions, such as the rose on the left (1/6s exposure at 70mm focal lenght, bare handed!).
As you can see, I would recommand that camera to almost everyone right away, and it's not that expensive either!
It's easy to get married; it's hard to be selective.