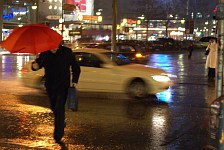 You may or may not have heard of it, but Berlin (well, Europe, let's not be too selfish) has been hit by a pretty bad storm. The storm was called "Kyrill" (don't know its last name though).
Anyway, it was that bad that I crashed for the night at the friends place I was visiting that night — as, when I was about to leave, the radio said that it would be suicide to leave the house right now.
I took a few nice photos that night, but — as my MacBook Pro is still in repair — I can't postprocess them the way I would like to and hence don't want to upload them yet. Besides, there are soooo many other pictures on my camera that are grounded too… Come on Gravis, fix my damn laptop! Actually, come on Apple, deliver the bloody screen panel that's holding them up! AAaaaarrrrrrrr!
If you pin your hopes on someone, you often wind up full of holes… [wind, get it? ;-) ]