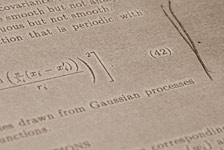 Mal wieder ein kleines, lustiges (bzw. eher "geekiges") Lebenszeichen von mir…
Bei all der Arbeit im Moment, kam ich über ein unheimlich gut und ziemlich "anders" geschriebenes Paper von David MacKay, mit dem Titel Gaussian Processes — A Replacement for Supervised Neural Networks?. Lustig, da man Formulierungen wie "Throwing mathematical precision to the winds, a Gaussian process can be described as […]" oder "A page of algebra, which is left as an excercise for the enthusiastic reader, shows that […]" verwendet.
Jedenfalls war die für meine Anwendung wohl wichtigste Formel das Papers die mit der Nummer 42…
Zufall?
Beat the eggs— what did they do to deserve that?