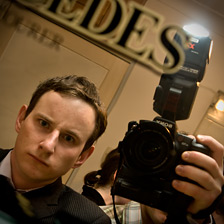 So many people (ok, 1 or 2) have asked me to revive this blog. I just haven't found the time or the energy to get back to posting regularly again, and of course — the longer you wait, the harder it gets. Interestingly enough though, I started this blog by posting daily for a good while (back in 2006). Posting frequency has decreased since then significantly, with the last post before this being about 8 months old (!).
Anyway, I've thought about doing this for a while now (it all started with this article at this wonderful website / blog) and so I'm just going to give it at shot. I'll start (read: this blog into) a photoblog. What exactly this means, I don't know yet. But I think it'll be something along the lines of: I pick a photo from my archives or a recent one and talk about it. Be it the story behind it, what's so special about it (technically, emotionally, artistically, or whatnot) or what went through my head when I was taking it. Not sure how often I'll manage to post something, but I hope more frequently then once every 8 months ;-)
Oh, I'll stop writing silly one-liners at the end of my posts [I'm running out of them].