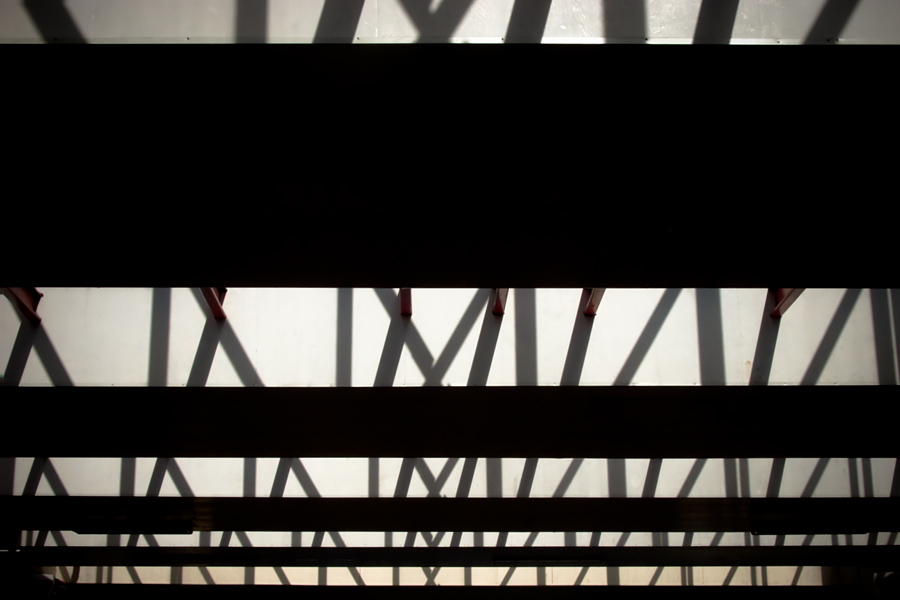 This is a very "fresh" photo, just out of Steffi's camera (a trusty old Nikon Coolpix 5700, but it does shoot RAW). We went over to the Post Primary School again to help paint, clean, transform and prepare the old gymnasium in it for use as a meeting place of the Maynooth Community Church.
As it was a sunny day today (for a change) the sun was shining beautifully through the windows in the roof, creating those interesting shadows with the support beams. So I grabbed a ladder went to one side of the hall and took a photo from as high up as possible to get this perspective shot, somewhat compressing the view with a tad of zoom.
Since the small camera has not the best optics, I corrected some of its defects (rather strong barrel distortion and chromatic aberrations) in Photoshop, with the really useful Lens Correction tool (it's hidden in Filters -> Distort). A bit of messing around with the tone curve as well as the saturation of some of the colours plus the usual vignette (thanks John for addicting me to them through your wonderful PhotoWalkthrough podcast…) and I got this picture.