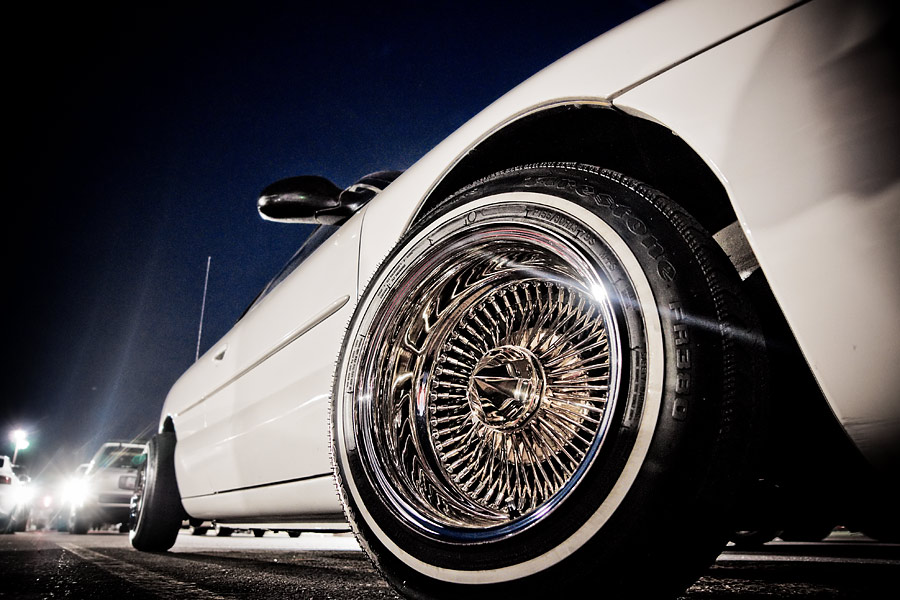 Couldn't find Xzibit anywhere to comment on this one, so I have to do it myself ;-)
This April I went to Phoenix, Arizona, to give a (small) talk at the INFOCOM 2008 conference. As the dollar still had a terrific value compared to the Euro, it was pretty much compulsory to buy some stuff while over there. So one night I went on a small shopping tour, and it was at the car park of some big electronics store that I saw this car. Out I took my camera and bean bag, and popped a polarizing filter on the lens. Yes, this did make sense: The sun had just sat in a perfect angle to my position, that's how I got this magnificent dark blue sky (I took another shot where it was much more prominent, but the was car less "pimpy", so I chose this one to post here).
Although I was using a bean bag, I increased the ISO and shot wide open as I didn't want to spend too much time crawling in front of some car whose owner I didn't want to meet… it's still unbelievable how much detail I got out of the shot, again considering it was taken at the shortest end of the lens, with minimum aperture. You just gotta admire the work Carl Zeiss and friends are doing!
Anyway, I was being a bit lazy in terms of post-processing and just used an (absolutely amazing!) LightRoom preset called Surreal Edgy Look, created by Matt Kloskowski (thanks!). It just worked out-of-the-box.