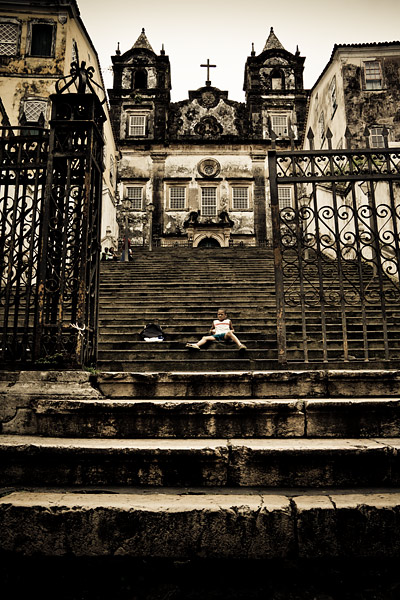 And on we go to another picture. This one was taken on a different continent, and in a different world…
Last year, Steffi and I went on a big rount-trip through Brazil. The other photos from the trip can be seen here, and I will surely post some more photos from the trip here too.
Anyway, on our trip we also made a stop in Salvador. Its historical centre has been declared a world heritage site, and rightly so. Strolling through the city, we walked up one street, and there I saw some kids kicking a ball back and forth just in front of these massive steps leading up to a church (you can't see the boys in this picture, they're just outside to the left and right of the frame). Since they didn't seem to mind me pointing my camera at them, I took a few pictures up the stairs and they kept playing. In one of the shots the ball just bounced off the fence and came flying past me. For a while I preferred that shot, as it was on of those lucky snaps.
Unfortunately it doesn't work too well from an aesthetic point of view, the eye pretty much just gets lost. I hope this is not the case in the shot presented here, where the kid that's just chillin' out is much more prominent and has some of the lines pointing straight at it. A bit of split toning again and some dodging and burning, et voilà.