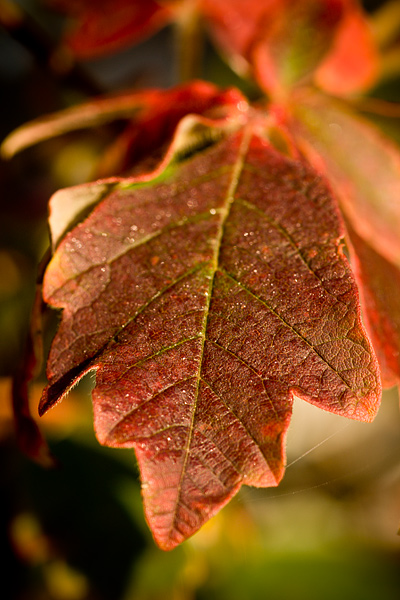 I don't really know what you're interested in, beloved reader, but I assume you would also like to see the odd "fresh" picture, not from my "back catalogue".
Well, here's one I took just this morning. At the breakfast table I let my mind wander. Eventually, it wandered by the fact that I hadn't used my macro lens in a good while. So I decided to throw it onto the camera leave it on for the rest of the day.
Some people like Autumn (others don't, and yet others have no other choice but to like it, since they live in it 365 days a year). Anyway, I shot a bunch of photos today, involving sunlit spider webs, the cucumber a colleague of mine had for lunch, and a dead tree trunk. But in the end, this lovely coloured leaf made it up here, with its beautiful, well, leaf texture, morning dew, spider web leftovers and even some hair on it (???). Check out the larger view of it.
This is the best (as in sharpest) shot of the 10 I took in burst mode, as I was shaking (it's not too warm here at the moment) and, moreover, the leaf was dancing in the wind. So here's another good (and old) tip: If your photo risks blurring (especially due to camera shake), set your camera to burst mode and shoot a whole bunch of pictures, then there's bound to be one which is significantly sharper then the others. This one you'll keep ;-)