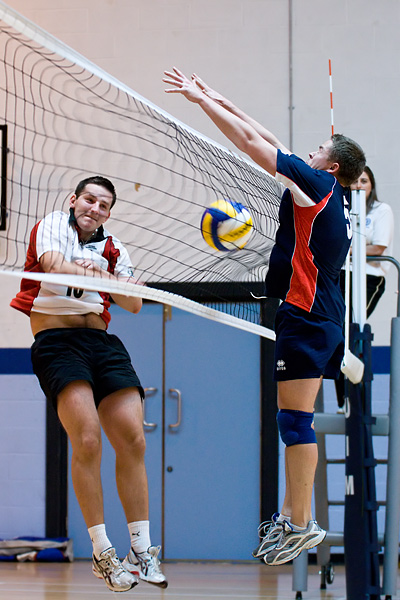 Last night, someone privately pointed out to me that it seems that the stuff I'm posting here I just make up as I go along.
That is correct.
And that some things I say are hardly relevant to the photo presented.
That is correct too.
Anyways, this photo is another "fresh" one, I took it last Sunday when we (NUIM Volleyball Club) had our first two games here in Maynooth, as part of the Men's National League 2nd Division.
We got our arses beaten all over the place (here's an account of our heroism), losing both games. However, it was great fun nevertheless, and we're just in there for the craic and the training effect (we don't have a coach, and are just barely enough players to form a team!). No one had any ambitions of winning anything, so there were no tears shed.
Also, no one got hurt, which is surprising, because one of the teams was made up entirely of "killing machines". Take this guy in the photo, who regularly spiked super-sonic balls over people trying to block him (he was a giant). During those balls he regularly deformed the space-time-continuum, as can be witnessed in the shot… More photos from the event here.