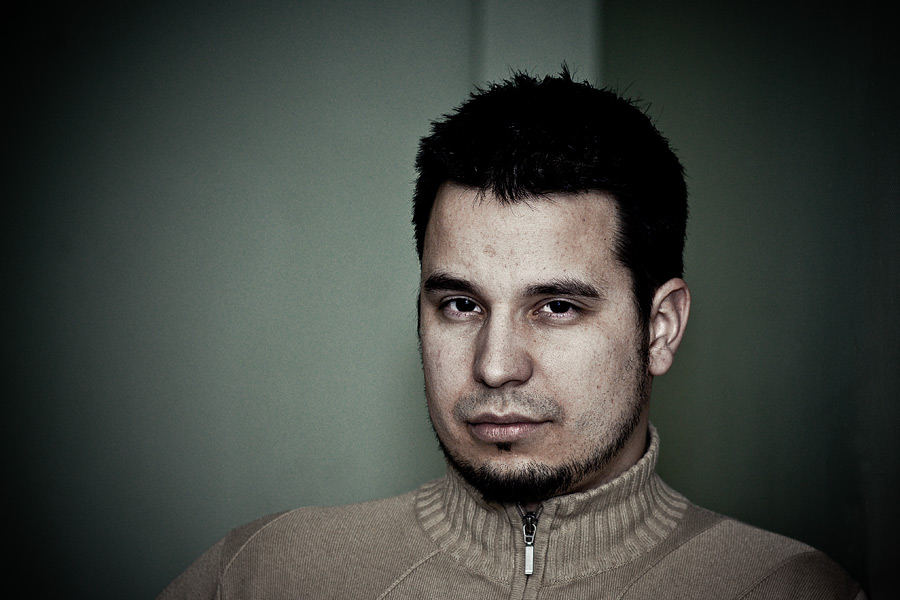 Last semester, when I still lived on campus, one of my lovely flatmates (Nancy from Austria) often had another friend of hers / mine over, Vazul (Austrian too). Just day I had read about "Jowlers", check out the link, so I asked Vazul if he'd be in for trying it out.
Unfortunately, in the end it didn't work out as desired (at least the shots didn't really look cool). However, in the process of setting up / configuring the gear I got this interesting shot :-)
To get this look (which pretty much invited itself by the chemical green paint of our creepy kitchen, as well as Vazul's tough-boy expression), I desaturated the reds and the yellows (while boosting the oranges a bit) and drastically reduced the brightness values of these colours, all in LightRoom. This is how you can get some nice, strong, rough texture out of the skin (do the opposite if you want to make it look more smooth). To increase the effect, I applied some hard core sharpening to the final image.
Some say, Vazul never looked so "manly"… all I know is that I just love this shot. So Kudos and thanks to Vazul (wherever you are now)!