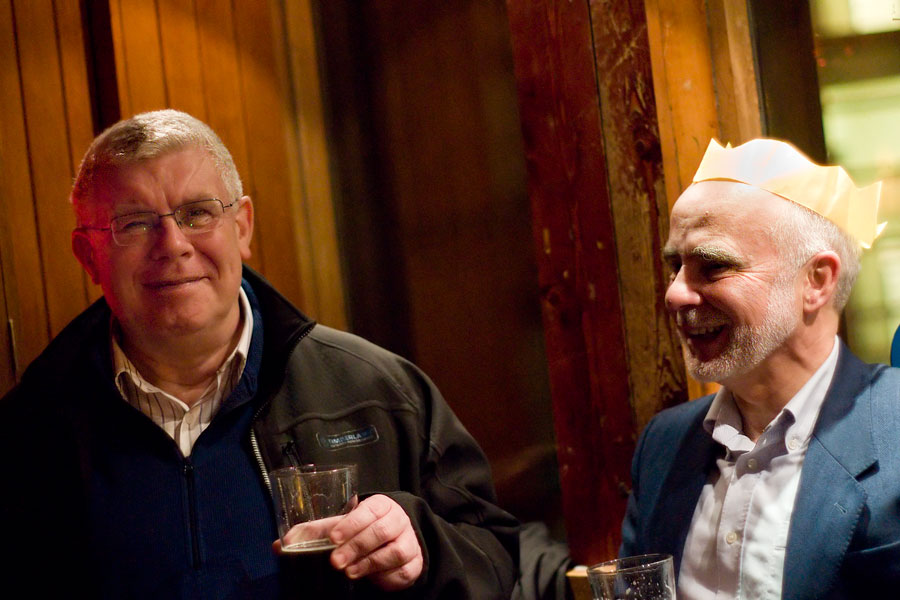 Last night was the Christmas Party of the place I work, the Hamilton Institute. We all took the train into town, went to the Porterhouse, and pretty much just got p***ed.
As it was a foreseeable time of happiness and merriness, I decided to bring my camera and snap some shots of the people I work with, but in a more relaxed and cosy setting. The problem with most pubs is that although they are beautifully lit they are usually very dark places, so the only choice was to mount my precious little 50mm ƒ/1.4 prime lens — the classic, standard lens in pretty much any camera system. Mine is over 20 years old! It has two main advantages: its focal length is very close to the human eye's focal length (i.e. the pictures look and feel like seen in reality), and it is a very "bright" lens meaning that it allows more light than usual to enter the camera. This allows you, together with a high ISO, to work with the available light, so that no flash has to destroy the atmosphere. Also, at ƒ/1.4 you have a very limited depth of field, which isolates your subjects from any distracting background.
The rest of the of the photos from the evening can be seen here.