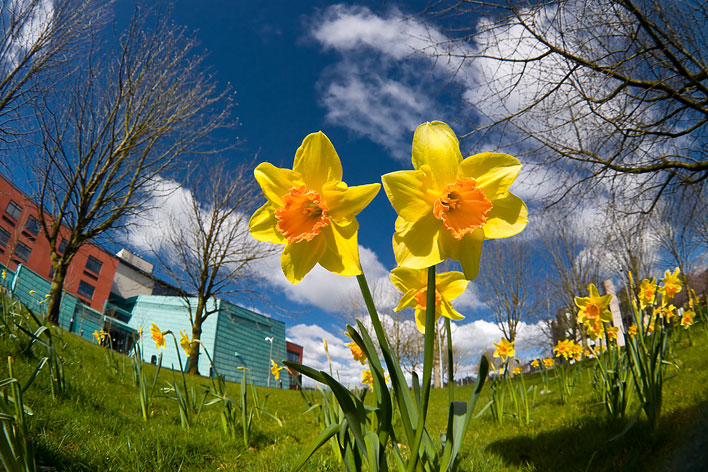 Are you ready for a change? Yes, we can! Ok, leaving shapes now.
This was a photo out of a series that I shot last year for the front cover of the "Spoke", the student magazine here. And, guess what, one photo actually made it :-) This one here, however, was obviously not meant for that series (front cover photos are usually in portrait format…); rather, I took it for the fun of using my fisheye lens, that I had just gotten a few days earlier.
Although it is a manual focus lens built like a World War II tank (it's made in Minsk, in a plant that also manufactures stuff for the Russian space program (!) and the Military), it delivers pretty stunning results — considering it only costs 4x as little as the "official" Minolta / Sony Lens.
In terms of shooting this, I got really close to the daffodils (20cm close!) and just shot a burst of photos — it was quite windy that day and the flowers were moving back and forth, in and out of focus. Also, I had put a large white reflector on the ground as close as possible to the flowers to bounce back some light from below and reduce the harsh shadows a bit (think "fill light"). Steffi loves this shot, and so do I :-)