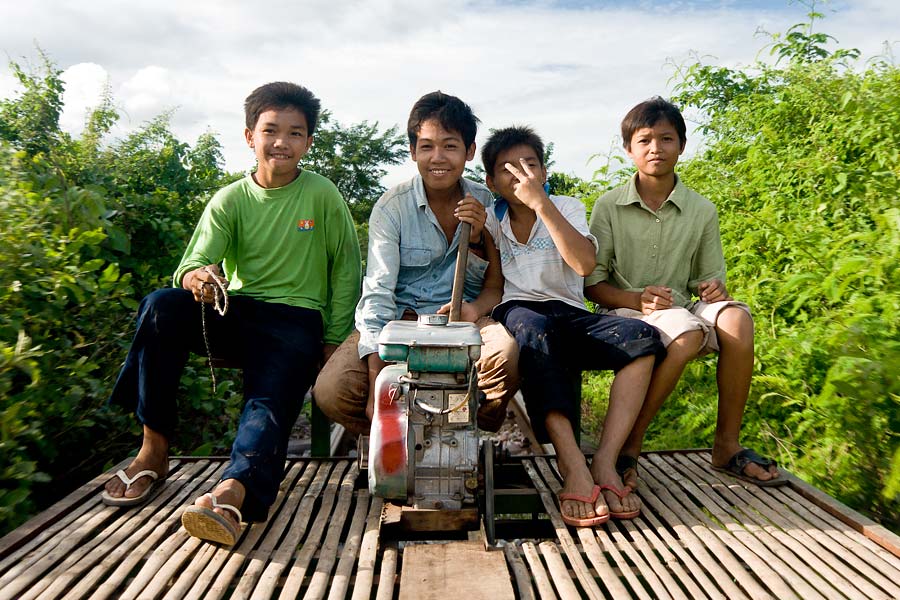 Happy New Year everyone, sorry this new post took so long. This one was taken on the famed "Bamboo Train". It's a Cambodian invention (one of the kids told me proudly) and consists basically of three parts: A motor, a very light bamboo flat bed, and a pair of axles. This modular built allows it to be assembled and taken apart again in a matter of seconds, even by a bunch of kids. Those trains used to run between the official train service on the national railway network, and there is only one simple (and obvious) rule: The lighter train gets out of the way (off the tracks) first…
I love this picture with those cool kids enjoying the freedom of speeding down the twisted rails while making a few bucks off random tourists that made it out there. Photographywise it was shot with a polarising filter for increased saturation and colours, with an elevated shutter speed as it was shaking quite a bit. I chose a rather wide angle of view in order to capture those converging lines from the bamboo platform as well, which kind of intensifies the whole picture.
PS: Here's a short video over on YouTube where at about 2:00 the guy talks about this crazy form of train.