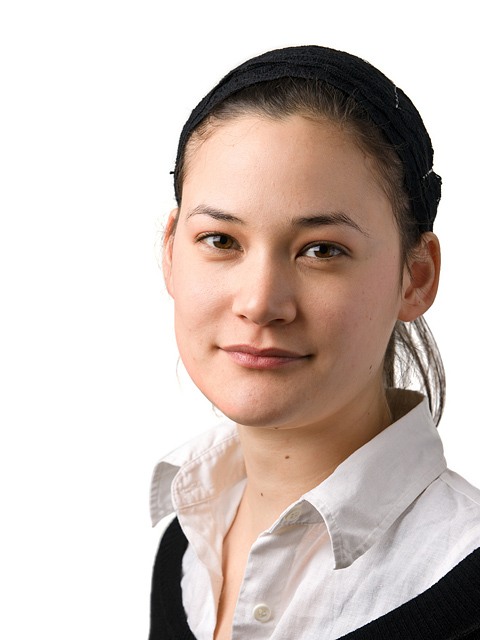 Andrea, a colleague of mine from work, needed some photos for her vita. Since I just got my brand new Elinchrom D-Lite 2 To Go kit, this was a great opportunity to give "studio photography" a shot.
The D-Lite kit is a set of studio flashes with some useful accessories aimed at amateurs that would like to get their feet wet in the world of studio photography. Well, I'm not going to start a photo studio, but I always wanted to try out that "whole different world". More on that at some later point.
The actual photo shoot was done at work in the evening, after the place settled down a bit. For the first set of shots I had Andrea "pose" in front of a white board. I wanted to get a shallow depth of field as not to get too many distracting details in the shot. As — contrary to popular belief — the problem with studio flashes is that they are rather too powerful than too weak, I couldn't use directly, even dialed down to the lowest setting. Instead, I just stuck with their modelling lights.
The second series of photos then was taken in front of a white wall, to get a more neutral, clean passport-photo type of shot to put on the application letter. The look I tried to create here was to show self-assurance, confidence and preparedness, but still with a friendly, human touch ;-)
On a technical side, one thing that completely blew me away (apart from the natural colours produced by the studio flashes) was how amazing 25 Megapixels can look. Check out the 100% view!