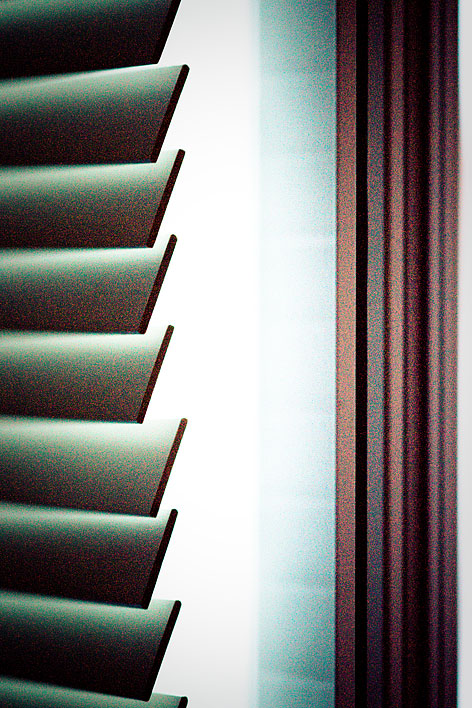 Next one up. This time, it's the window shades of our guest room.
Oh boy, what did I do with this image? Well, first of all I cranked up most of the sliders I could find in LightRoom, I boosted the saturation and sharpened the hell out of things. That's how I got this very strong chroma noise. It's the noise that is produced by the sensor (the picture was shot in pretty dark conditions at ISO 3200, and Sony cameras are still anytthing but famous for their noise performance).
Apart from that I really messed around with the colour sliders as well, saturating this, desaturating that…
Something that's quite interesting is the fact that, as I said, it was rather dark when I took the photo. But with ISO 3200 + wide open ƒ/1.8 + 1/15 s exposure I eventually got the brightness I wanted. I didn't use a tripod (too lazy), but instead relied on the in-body stabilisation of my camera (something very useful to have — and unique to the Sony D-SLRs, at least when it comes to full frame sensors). As you can see it worked very well — this is the only shot I took (no burst-trick this time).