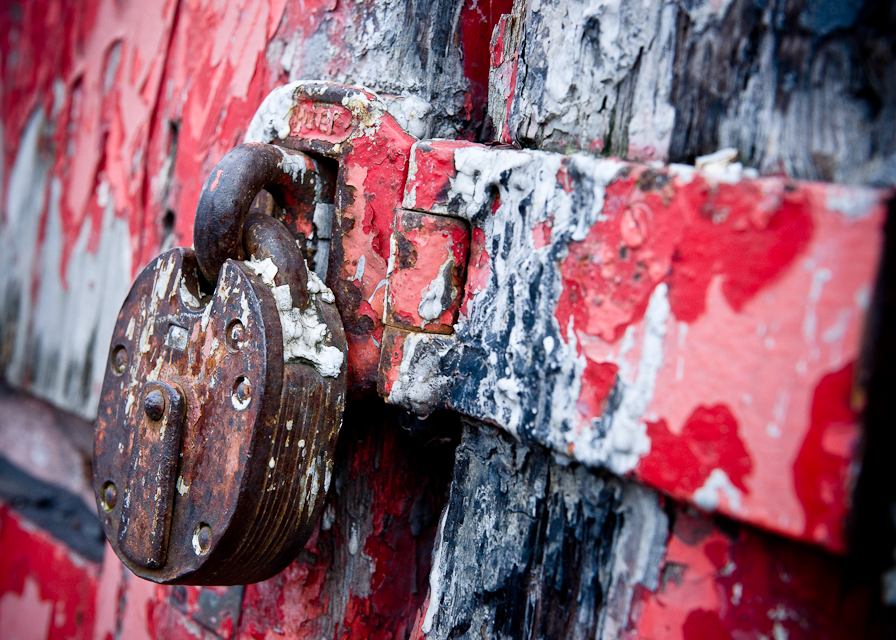 Ok, enough curiosities, let's go back to something more visually interesting.
The gentle ready may have already seen that we are now looking at a dirty, rusty, old lock on an old door with fading paint. I spotted it on our walk around the inner city of Cork, near the docks — generally a great place to keep an eye open for grungy shots.
What I find particularly interesting here is that this is no play on the colours, at all. This picture is processed with the correct white balance, and nothing but a tad more contrast and an increased black level (it, as always, was a grey day). In other words, no selective desaturation, as some might have suspected. The paint was really fading in colour…
When I took the shot, I stopped down the lens quite a bit so that the depth of field would be large enough to cover the lock, and also to get maximum sharpness. My standard walk-around lens (the Carl Zeiss Vario-Sonnar 24-70 ƒ/2.8 SSM) unfortunately tends to be a bit soft at the long end).