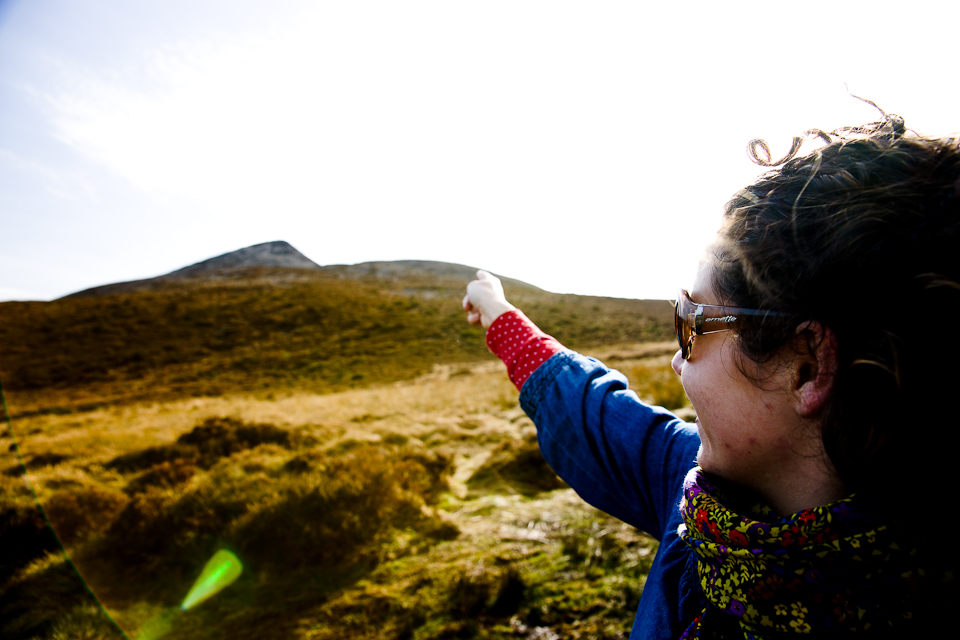 Last Sunday a bunch of colleagues and Steff&I went on a little hike to the "Great Sugar Loaf". It is (by orders of magnitude) less impressive than the real deal, but it makes for a very nice hike (provided it's a nice day ;-)).
After a bit of random walking and not really finding where the track started we finally were ready for the ascend. Up there, we were really surprised to find hordes of people going for the summit, and quite a few of them rather not suitably dressed for the tast… But they were lucky and the weather played along nicely.
So on the way up I took this spontaneous photo of Łukasz's girl friend Christina. Apart from the strong flare in the bottom left (I still had my polariser on when I took this shot) a pretty nice photo, except that it was completely overexposed. I've recovered as much as I could from the RAW file, but large parts of the sky are still blown out. Also, as a result, all the dark tones were way to bright and looked rather washed out. However, photos like that don't have to be lost — just increase the black level until the dark tones are back dark again. You will then get a nice high-key type of picture with tons of contrast and nobody will complain about blown out skies ;-)
PS: My photos from the hike can be seen here.