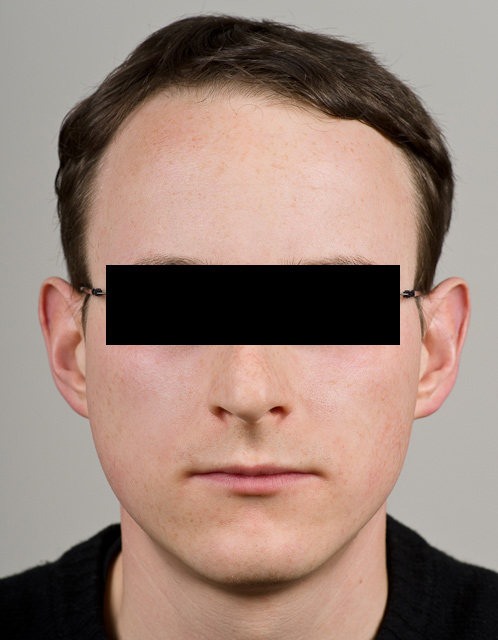 It's time again, I need a new passport and thus some up-to-date photos of myself. Possessing all that photographic gear, why not try to make them myself? Last time I paid 11 EUR for them and the main street photographer just used a trusty old Canon 350D with a cheapish Sigma 18-200mm lens (from what I remember, set to around 60mm i.e. 96mm considering the 1.6x crop factor), plus some minor studio equipment: In short, nothing a mere mortal couldn't reproduce.
I then had a read up on the official specs of the Bundesdruckerei (the German Federal Printing Office) and decided that the conditions there aren't too hard to meet either.
So I set up my two studio flashes with their softboxes in our living room, tethered the camera to LightRoom, grabbed a remote release, and off I shot. Here's a small making-off shot. After about 10 shots of adjusting my head, I finally go the image right (as far as I can see).
Finally some pimple-removing (this photo will be on my passport for 10 years, so a bit of vanity is o.k.) and more importantly: careful cropping according to the specifications (35x45mm, with nose, eyes, chin etc. in appropriate locations), and I was done. To get prints, I reproduced the picture eight times on a 6×4 canvas and dropped the file off at the chemist.
While I don't know if the embassy will take it, I don't know why they shouldn't. I'll let you know if it worked!
UPDATE: It worked perfectly fine. Ironically, the guy on the counter next to me went to a local photographer to get his passport picture taken, and they rejected it!