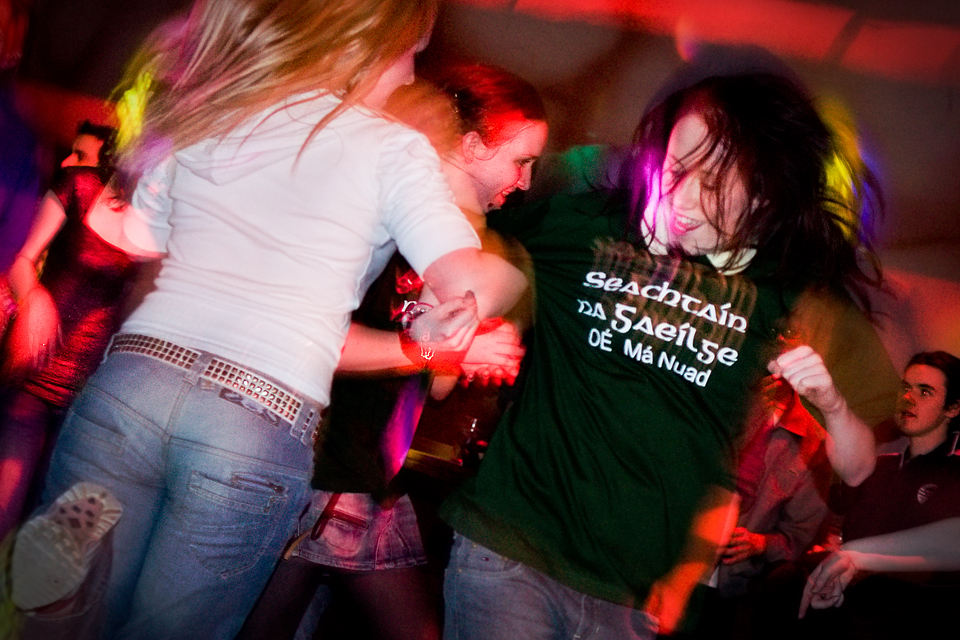 A few weeks back, the International Office here at the university ran a photo competition entitled "More Than Words", to which I submitted a few photos for the different categories. Two weeks ago, the submissions were then exhibited over in the library, so Steffi and I went over and had a look. Apart from a few obvious snap shots there was quite some stiff competition there, and way more contributions than I expected. Apparently I'm not the only international student with an interest in photography here in Maynooth…
The award ceremony then took place last week when I was in Germany, so Steffi agreed to go in my stead, not knowing what to expect. Well, turns out one of my photos (shown above) won in the category "The Best Night Out"! Awesome! I actually preferred some of my other photos more (I'll try to post each entry here in the coming weeks), but then again, tastes are different. The price for that was some university merchandise and a much needed price money (to pay off my equipment ;-)).
But that wasn't it. Steffi also receive another price for me — the one for the overall best submissions, i.e. concerning the entirety of what I had submitted. Wow. The price for that was a small point and shoot camera, a red FujiFilm FinePix Z20. Nice :-) I guess I'll use that mainly for taking small videos, and Steffi might just keep it in her hand back. Never hurts to have a small camera around!
So a big thank you to Karen over at the International Office for organising and running this competition, to the judges (Peter Thursfield, Irish Times Picture Editor; Glen Hayward, Metro Picture Editor; and Denis Condon, Film Studies lecturer) who voted in favour of my photos and to Steffi for going to the ceremony! This is definitely a huge boost for my photography and I hope this will not the last competition I'll partake in!
PS: Technical note about the picture: The secret here was to use so-called "slow sync", that is you expose fairly long (an 8th of a second here) with a high ISO value, but also use the flash on the second curtain. That way, you get a lot of motion in the shot, but also freeze some of the elements at the end of the exposure. Same technique as with the falling egg the other day.