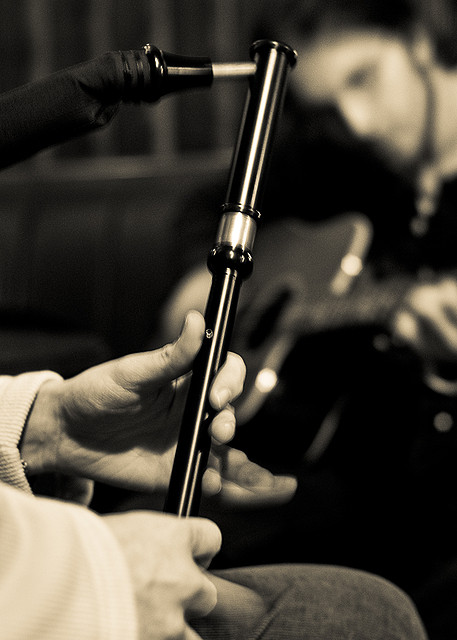 Another submission for the photo competition. This one was for the category "The Epitome of Maynooth".
Last year, the Tradition Music Society played every other Wednesday evening in the "Brady's", one of the nicer and probably the most "original" pubs of Maynooth (maybe "authentic" is a better word). Unfortunately, these gigs have gotten fewer and fewer, so I hope the Trad Soc will get a bit more organised again to put those wonderful sessions of traditional Irish music on again!
Blurred in the background is Joey working away on the guitar, the Uilleann pipes in the forground were played by Yoann (this is a tradition Irish instrument, somewhat similar but still quite different to the Scottish bagpipes you're all familiar with.)
To get some of the nice old-folks'-pub atmosphere into the picture I processed it with to a sepia tone (something I'm not too fond of, usually). This photo is again one out of a great many, shot in 5 pictures per second burst mode to be able to pick the one with the least camera shake (1/5th of a second is rather long for hand-holding a lens at 75mm equivalent) but best motion blur on the fingers flying across the pipes.