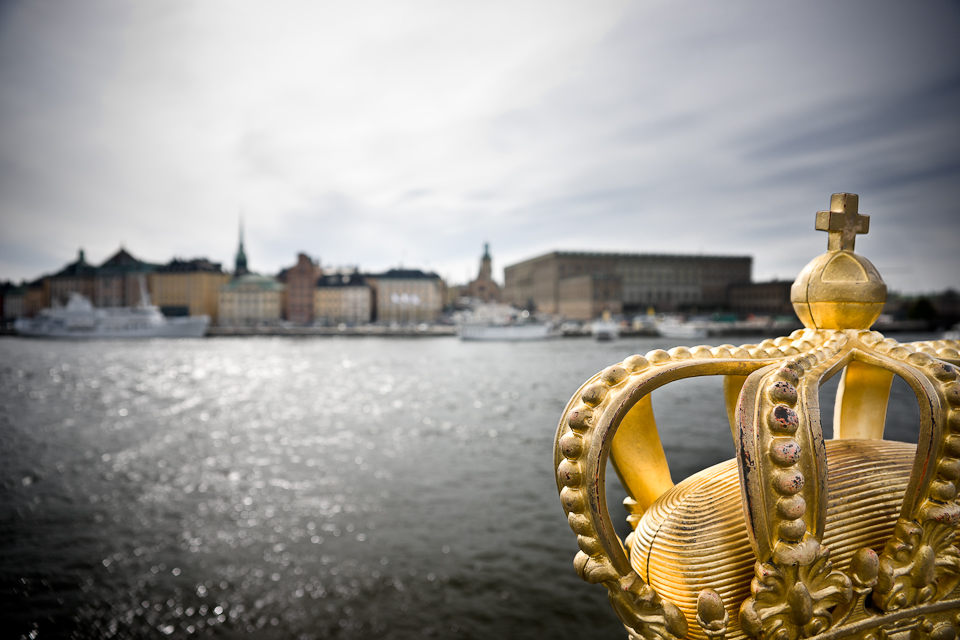 Last bank holiday weekend, Steffi and I went to Stockholm, for a change. With the cheap RyanAir flights nowadays a quick weekend away to some random European city is easily done, and a great way to get a small time-out from the everyday life of Maynooth.
What a wonderful city. We really, really enjoyed our time there — which was also helped by the fact that we had brilliant weather, and everybody was out and about because of that. We were surprised by how clean everything was, making it possibly the cleanest city we've seen so far. Also, the prices aren't as bad as people say, at least if your pain barrier has been lowered over the years by life in Ireland.
Apart from the usual tourist stuff you should see (like the narrowest alleyway in the city), we especially liked the Rådhuset ("city hall"). It contains a number of very interesting halls and chambers, such as the famous "Blue Hall" (which isn't blue; this is where the Nobel Price banquets are held every year), the "Council Chamber" with its amazing ceiling and colours, as well as the "Golden Hall" completely covered with a gigantic mosaic. There's actually a funny story about that mosaic: Apparently, the artist had to do it in such a hurry — and some plans had been changed during his work on the mosaic — that in the end one of the most important figures in the mosaic got "decapitated" by the ceiling…
As you can see, a fun place to visit. Honourable mentions also go to the Royal Palace (try to be there for the change of guards), the Vasa Museet, Gamla Stan (the old city), the amazing Nordiska Museum as well as this warning sign next to an elevator about how not to kill yourself.
For a full pictorial run-down of our trip, see this flickr set.