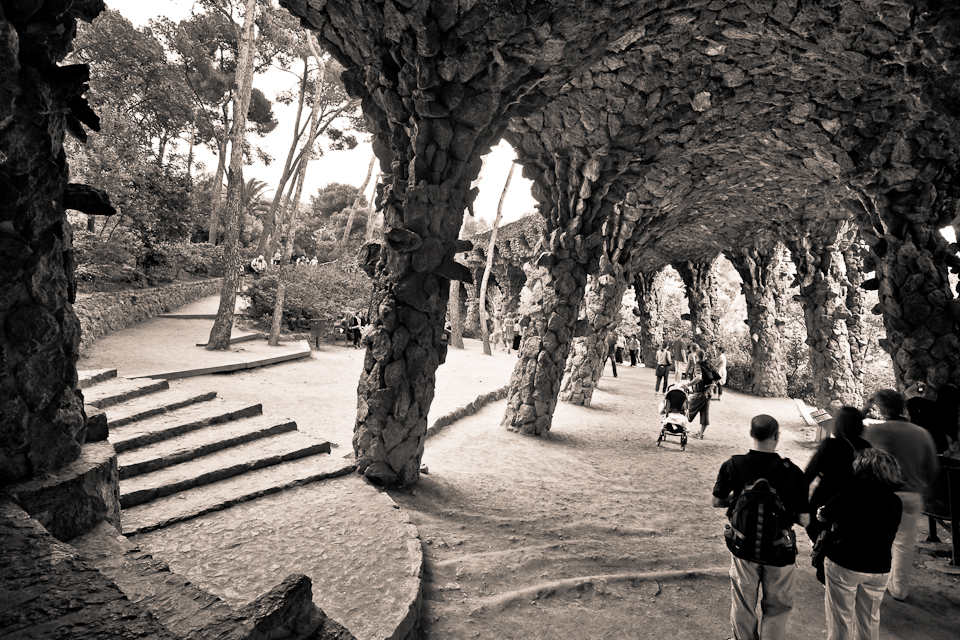 Here's the last photo (in this series at least) from our recent Barcelona trip. I took it under one of the viaducts in the Park Güell. This park has also been designed by Antoni Gaudí (the masterminds behind the Sagrada Familia) and it features the famous, colourful serpentine benches you may have seen in L'Auberge Espagnole.
Although the weather's not been the best when were there (a bit of the shame, as the place is is covered with colourful mosaics which obviously work best in direct sunshine) we did spent a good amount of time there just wandering around and admiring the crazy / organic features and shapes all around.
The photo above shows one of the viaducts; a great place to hang out when it's raining ;-) There was not much point in leaving it in colour, as shapes and the interplay of light and shadow are much more prominent in monochrome. Motivated by Jeff Curto's wonderful Camera Position podcast (and, for instance, this or this episode), I paid particular attention to the precise position from where I took the camera.
At the time, I was consciously trying to achieve to things: (roughly) balance lights and darks, as well as nicely guide the eye through the picture. As we're naturally attracted to the bright parts, here our eye will start in the top left (generally a popular point to start reading a picture anyway, at least in Western cultures). It should the continue down along the stairs anticlockwise to come underneath the viaduct and follow along the walking direction of the people towards those beautiful arches. Note also the dark elements at the corners of the frame which help to keep the eyes inside the picture. Also, some amount of patience was required for this shot, as the other people walking around were not always where I would have loved them to be …
But overall, I really like this picture, and it's definitely going to be hung up next time I get some pictures printed.