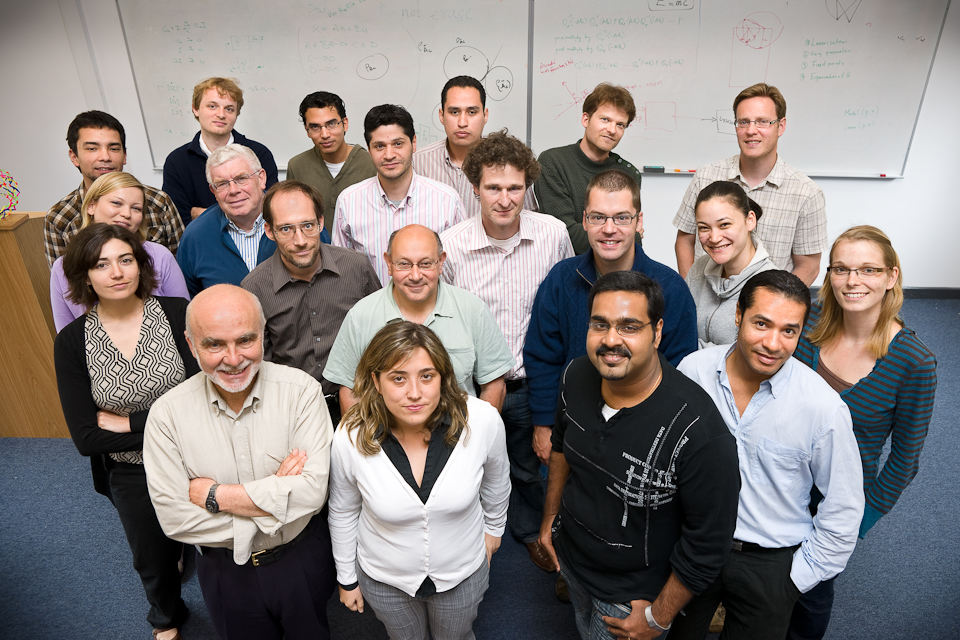 Planned months in ahead to ensure that everybody would be there, today was the day for the group picture of my colleagues from the Systems Biology group here at the Hamilton. Of course, not everyone was there, but that missing person will be edited into the picture (if all goes well) at the top right.
As the weather report promised, the weather wasn't going to play along nicely; in typical Irish fashion it was, in fact, bucketing down. Hence, the picture had to be taken inside. But that was a wonderful opportunity to get a slightly more interesting shot as compared to the standard, boring group photos outside in front of the institute's logo.
So I got everyone to come into the seminar room where I had put up a chair on a table so that I could be high up above everyone. After arranging them according to their height, I asked everyone to bunch in as much as possible (the number one tip for group shots!) and shot with a wide angle focal length down on them, bouncing the flash off the ceiling. The picture turned out exactly how I had pre-visualised it this morning, brushing my teeth.
Again, for group photos you 1) want to get people as close as possible together (almost uncomfortably close in real life, but it won't look like it on the photo!). This not only makes the group look more like a group rather than loosely assemble individuals, but also adds a small bit of fun to the whole action. 2) you want to tell people clearly and explicitly to look directly into the camera, and nowhere else. If there are other people around you, send them away, or people will inevitably get distracted and not look into the camera. 3) take at least (!) three photos or more, because you will always have someone with eyes closed at the exact moment you release the shutter. Having several photos allows you then to clone some pairs of eyes between photos so that everyone can have theirs open in the final image :-)