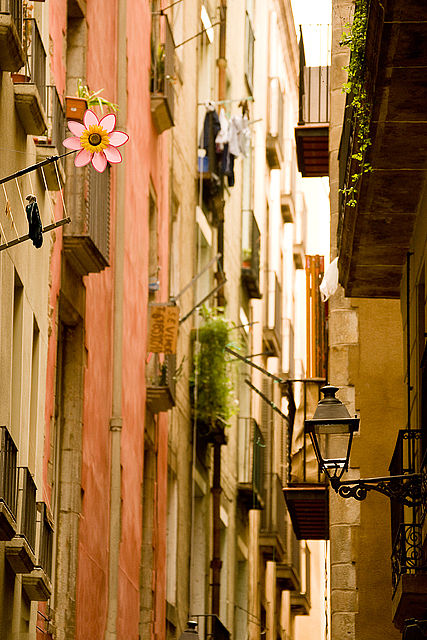 And off I go again to Spain. Seems like I just left Barcelona yesterday ;-)
This time I'm off to a conference in València (POSTA '09), and right after that Steffi and I will have a small "Ersatz"-honeymoon since our original plans to go to Hawaii had to change… We'll have a small roadtrip around the south of the Iberian peninsula.
The photo here was taken on our last Spain trip to Barcelona and it shows one of the narrow streets in the old part of the city. I just loved the warm colours of the buildings, and to intensify that I cranked up the white balance to a fairly high value (must have been above 10'000 °K I think). That's a very simple but neat trick to add some extra warmth to your pictures without much too much effort. Along the same lines, if you add in some more magenta, you can achieve a more of sunset-y type of flair.
Another common thing done here is the compression of perspective by using a telephoto lens and a fairly long focal length. This additionally reduces the depth of field to highlight two little details in the picture, the wind-wheel-flower and the street light.
Anyway, will be back in a couple of weeks time, hopefully with some more pictures :-)