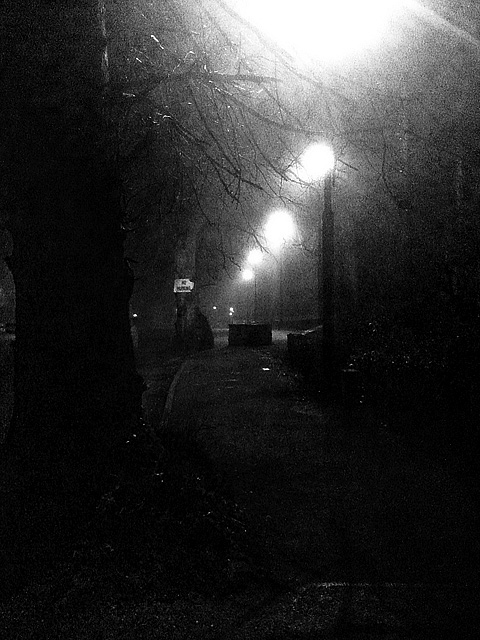 Hands down, the best camera is the one you've got in your pocket, always at the ready. I must have said that before somewhere, but there's no better camera than the one you happen to have with you when you need it.
The photo here was taken late at night when I was returning from Dublin. A seriously creepy fog hung over the by-then quiet village (ok, town…) and produced this surreal but chilly atmosphere. I so wished I'd have had my film camera with me, or my digital SLR, but I didn't. So I tried to take a photo with the camera on my phone… Better than nothing, I thought.
As it was rather dark, the camera basically just said "That's it, I'm out of here". Unfortunately, the company with a vegetable in its logo doesn't let you configure or manipulate in terms of camera settings, exposure or whatnot — you're stuck in fully automatic mode. On top of that, it appears that the software just won't use shutter speeds of longer than a 1/10 of a second, and the ISO maxes out at 1000. That meant that the overall picture was quite dark, and I had to push the brightness a lot in post-processing. That, in turn, brought out loads of noise, but hey, that's fine — just do convert the image to black & white trick and the noise can work for you.
So that's the picture I made out of it, as I said brightening the original image somewhat, and adjusting the black level up somewhat as to maintain the "low-key" spirit of the picture. Quite a contrast to the previous post, I guess.