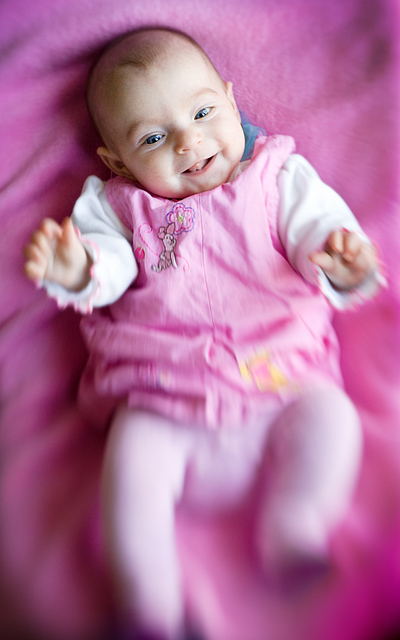 Oh boy … I know, it's very pink. But what can you do?
Here's another "SOOC" shot. Yes, really. The strong distortions are created by more of a toy than a lens — a "Lensbaby" (in my case the Composer). It's a fun lens with an intentionally "bad" optical design (only a small area is sharp, the rest is blurred) combined with a ball and socket design which allows you to move that "sweet spot" around in the image and place it where you want. It's quite difficult you handly though, and the fact that it's a manual focus lens doesn't help.
Yet, it's fun, fun, fun!
This images was shot back in January; I place the little missis right next to our large balcony window which gives this lovely, flattering soft light.
And just for the record: All of the pink coloured items in the image were given to us. While it's a tad "kitsch", we're still very grateful for the gifts and donations!