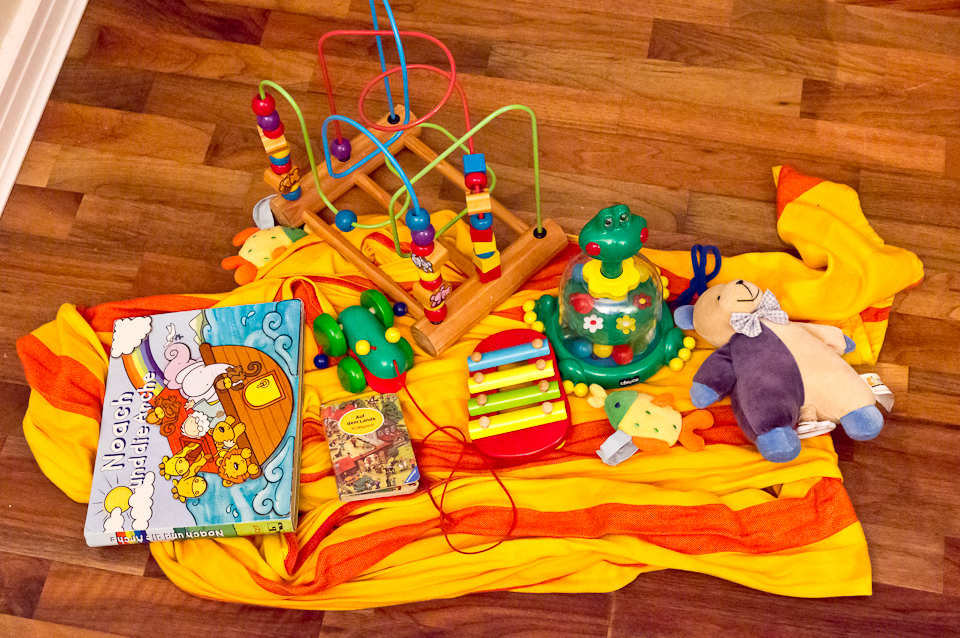 Ok, one more no-so-artsy but rather technical post.
I recently got a new camera, mainly to shoot video with it. However, this camera (the Sony Alpha SLT 55) has generated quite some stir due to its unique and somewhat novel design, and apart from that, as always when there's a new camera and sensor folks on forums have shown themselves quite controversy about its noise performance.
To see for myself I decided to shoot this ISO series. The setup is not ideal (in hindsight, I should have had some more darker areas in the frame too) but it should do for now. It shows a bunch of toys lit indirectly by rather dim light (a 40W incandescent light bulb lamp shining up a wall about 2m away). To give you an idea of the dimly-ness of the shot, the EXIF reports a brightness value of -2.75 EV, and the ISO 800 shots for instance needed a 6s exposure at ƒ/8. All pictures were taken from a tripod, from the same position, but at different focal lengths to get identical crops, with a 2s timer and SSS off to get as sharp pictures as possible.

The series shows the photos from the α55 and the α900 right next to each other at equal ISOs, running the ISO from 200 to 12800. Since the α900 only goes up to 6400 I shot an extra frame at ISO 6400 but one stop underexposed and then raised the exposure again by one stop in post-processing to simulate ISO 12800 that way.
Speaking of post-processing — all images were shot in RAW mode and then converted with Adobe LightRoom 3 (with the 2010 process version) with zero noise reduction and zero sharpening applied. All other sliders were also left alone, except for the white balance which was set to 2600. Then I reduced the size of the α900 pictures to the exact pixel dimension of the α55 to make for a fair comparison. In other words, all strips are taken from 16 megapixel images.
Phew. So much for the experimental setup. The result? Well, see for yourself. But in my eyes, both cameras are pretty much identical in terms of noise performance, provided you take the different resoultions into account! (That reminds me of the α900 vs Nikon D700 debate back in the day…). And, guys, it's really not as bad as many pixel peepers are trying to make you think.