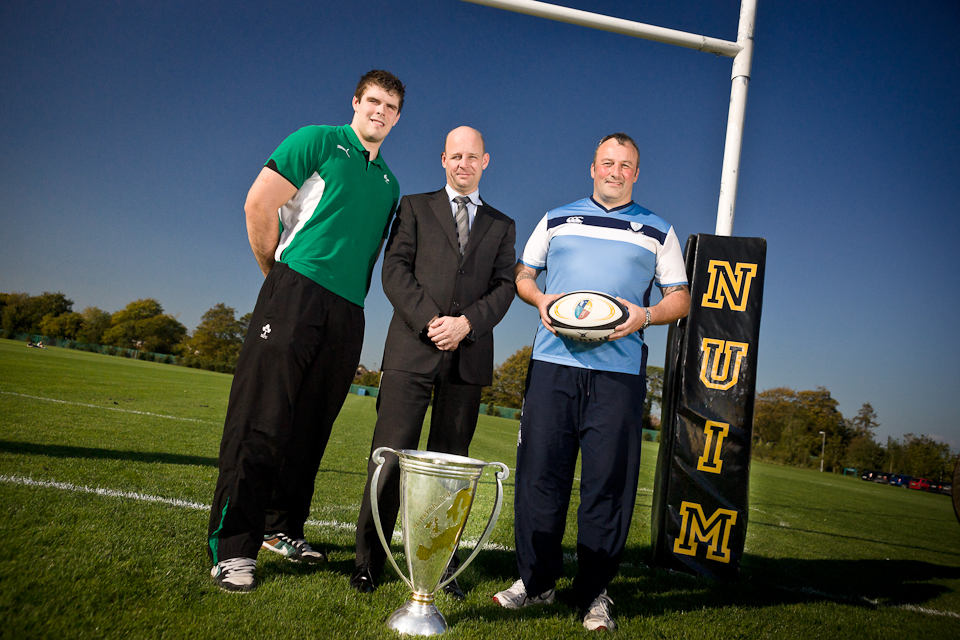 Just returned from an assignment today, so this one's fresh off my camera, the flash units having barely cooled down. I was hired to take some pictures of folks from the NUI Maynooth Rugby Club together with the trophy from the Heineken Cup.
The problem: The shoot had to be fast (the university's president only had 20 minutes for the gig and 15 odd group pictures had to be taken), the pictures obviously had to be really "nice", but worst of all: The weather. No, it was not raining — to the contrary — the one-in-a-million thing happened… 100% pure 3pm-sunshine. Great, since the shoot was to take place on the rugby pitch (to get the NUIM post-padding in).
So there I had it: photograph people in plain sunshine. While sunshine is really pretty for landscapes, it's not ideal at all for people. Extremely harsh shadows on people's faces and a great deal of squinting are the main issues. There's not much you can do about the squinting, apart from turning them as much as possible from the sun. But the harsh shadows can be alleviated with some extra gear.
That meant to charge my flash gun batteries to the max, pack two tripods and a reflector. Steffi was kind enough to woman the reflector (which made the squinting worse, but I needed all the fill light I could get). The two flash guns I have were mounted on the tripods, set to 100% power (their are GN 56 and 58) and wireless triggering. Unfortunately I don't have radio triggers, so I had to go the much less reliable route of optical triggering. Yeah, in bright sunshine. Thankfully, the flashes did surprisingly well and they had a triggering rate of I'd say over 80%. Again, not great, but it had to do.
The setup was the following: I placed the people so that the sun is about 60° to their right; the flash guns and reflector (1m fold-up golden reflector) where set to come in at the same angle from their left, about 2m away from them, as close as possible without getting them in the shots. To get the sky as dark as possible I used a polarising filter, which also allowed me to use a fairly large aperture. But with aperture and exposure time fixed (I set it to the shortest possible value to reduce the ambient light impact on the picture) I brought the ISO up until the image was well exposed. Although the flash units were working at their highest setting, I still had to bring the ISO up to 1250. Yes, that makes the images a bit more noisy than what I would have liked, but there was not much I could do about that.
I think the end result came out quite nice, I hope the uni will be happy with it. It certainly cost me a few gray hairs…