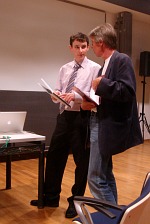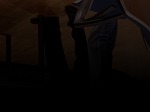 Being back in Germany, I think now my friends in Australia (or Ireland, or elsewhere) are more interested in reading this blog… Hence, I'll be writing it in English from now on (or at least for a good while).
Anyway, sorry it took me so long to get back into writing. I've been hanging out, relaxing and just felt like doing nothing I didn't have to for a while. But I'll let you know what I've been up to (roughly).
My first important thing back here was to give the presentation that goes with my Diploma Thesis (remember, that "Algorithm Development and Testing for Four Legged League Robot Soccer Passing"). I prepared it in the last two weeks over in Australia, practiced it twice over there and had the real run through here.
Fortunately everything went really well, my MacBook Pro didn't randomly shut down (actually, it hasn't been doing that for a good while now — must have been one of these firmware updates…) and I managed to answer the numerous questions people poked at me.
Speaking of the people, thanks for showing up! The seminar room was pretty much filled, I was seriously surprised! Well, may be they just came for the 60 odd muffins I fixed :-)
For those of you interested, I did a video recording of the presentation. It is fully iPod compatible and can be downloaded here. More infos on the talk here.
Is a light year one in which you gain 50% less fat?