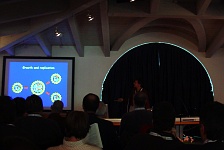 After settling a few days in Magdeburg, I started preparing a poster for the CMSB06 Conference in Trento, Italy (that is the International Conference on Computational Methods in Systems Biology 2006), my very first conference I would attend.
The conference (on the 18th and 19th of October) was awesome, lovely people there, quite a few interesting discussions, and the numerous talks, especially the invited speakers, were also great. Unfortunately they run a bit late with some of the presentations which ate up most of the time for the poster session. After that we went to the "social dinner", which resulted in a culinary firework of 5 kick–ass gourmet courses and copious amounts of local wine and spirits…
After the conference, I had an extra day to explore the beautiful city, day and night… All in all, it was a great trip. A big thank you again to Ollie from the Hamilton Institute for sponsoring the trip.
Law of Probability Dispersal: Whatever it is that hits the fan will not be evenly distributed.