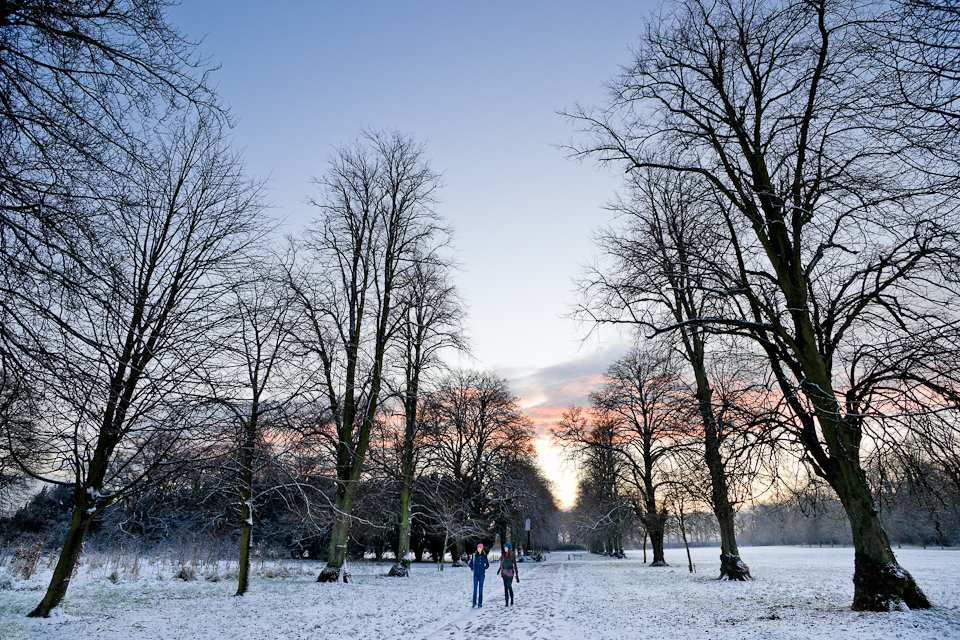 I'm… dreaming of a whiiiiite… Christmassss… Well, I was but no, not in Irland. Instead, we were finally blessed with a few centimetres of snow a couple of weeks back (but which only hung around for a few hours) — and I used this opportunity to shoot a couple of pictures around the beautiful old campus.
Unfortunately I can't show these pictures just yet, as some of them will be used elsewhere and the photos ought to be "fresh" for that ;-)
But anyway, here's some tips for winter photography: First of all, when you go out in the cold, make sure you pack some warm clothes (obviously) so you can devote all your attention to the picture, and not your shaking body. Also, gloves are handy. Keep all your batteries as close to your body as possible (i.e. in your pockets, not the camera bag), so that they are kept warm — this will make the last longer.
Next, make sure you use plenty of positive exposure compensation (that's the +/– EV thingy on your camera you always wondered about), as pictures in the snow tend to be generally brighter than your average lighting situation, and without compensating for that fact your camera will probably underexpose, making white snow look grey and ugly.
Finally, when you come back inside with your camera (mine is almost 2kg of metal and glass), it'll take a good while before it warms up. In the meantime, this cold block of high-tech will make a lot of water condense on it, so you may want to put it in an airtight plastic bag before go back inside. That way it can warm up in there without getting all the humidity inside. You definitely do not want mushrooms or lichens grow inside your gear…