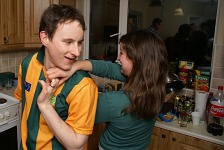 Kein Wochenende ohne Party. Gestern ging's dann recht spontan zu Steve, einem lieben Schotten, Kollegen und guten Freund (einige von Euch mögen sich an ihn aus der neunten Episode von Podpourri erinnern "Interview: A ,ned'").
Eigentlich war die Party recht "normal", nur dass ich diesmal meinen iPod Hi-Fi nebst Musi bereit gestellt hab ;-) Somit liefen dann irgendwann zwischendurch auch mal ein paar Salsa und Bachata Songs, zu denen auch kräftig getanzt wurde.
Heute mach ich aber eher 'nen ruhigen Abend (Kochen + Filmchen), denn morgen möchte ich wandern gehen……
If you're going to do something tonight that you'll be sorry for tomorrow morning, sleep late.