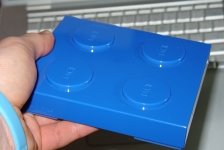 Damit mir sowas wie vor 2 Monaten nicht nochmal passiert (um ein Haar kompletter Datenverlust) hab ich mir endlich eine zweite externe Festplatte angeschafft, auf die ich jetzt immer brav mein System back-uppe.
Wen's interessiert — es handelt sich hierbei um einen LaCie Mobile Brick, eine 120 GB Festplatte mit 8 MB Cache und 5400 U/min, und dem wichtigsten: USB 2.0 und FireWire Anschluss (FireWire ermöglicht OS X Benutzern ihre Backups direkt von der externen Festplatte zu booten).
Bin sehr zufrieden mit meinem kleinen blauen Legostein (obwohl das Design wirklich sehr gewöhnungsbedürftig ist). Die Geschwindigkeit ist beeindruckend, und sehr nützlich bei all dem Video–Editing in letzter Zeit (die RoboCup DVD sollte morgen fertig sein und in's Presswerk gehen…).
Schlauer Spruch des Tages: Clothes make the man. Naked people have little or no influence on society.