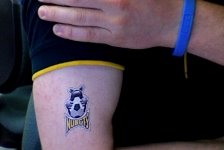 Irgendwer von der Uni kam gestern rein und hat uns Tattoos vorbeigebracht, mit dem NUbot–Logo.
Wir werden in nächster Zeit einiges an Schulen und Einkaufszentren besuchen, um die Weltmeister Roboter zu demonstrieren — da kommt ein bisschen Merchandise / Fankrams wohl ganz gut ;-)
Naja, wie auf dem Photo zu sehen (mit der im Laptop eingebauten iSight geschossen), musste ich so ein Tattoo auch gleich mal ausprobieren! Bin jetzt sooooooo cool. Ich glaub mein letztes wasserlösliches Tattoo hab ich vor etwa, na, 15 Jahren gehabt! :-)
Tomorrow: One of the greatest labor saving devices of today.