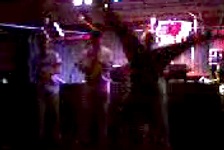 Fretiag Abend ging's ab — die Latin American Society (die sich La Peña nennt [der Freundeskreis]) hat mal wieder eine ihrer berühmten Parties geschmissen. Goil. Hatte endlich mal wieder ausgiebig Gelgenheit, Salsa, Merengue, Bachata und sogar den einen oder anderen Cha Cha Cha zu tanzen. Das ganze war doppel fett, da die Musi von einer Band live gespielt wurde (es gibt wirklich nichts Besseres als Latinomucke von 'ner echten Latino Kapelle!).
Zwischendurch gab's sogar noch eine Capoeira Show, absolut beeindruckend. Alles in allem ein sehr gelungener Abend — muchas gracias, La Peña!
If at first we don't succeed, we run the risk of failure.