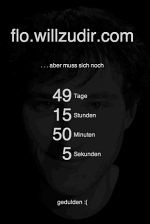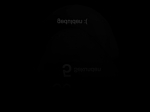 Da ich bei meinem neuen Webhost noch eine Domain frei hatte, dachte ich mir, was wäre denn mal so richtig clever ;-) ?
Tja, dann kam mir irgendwie die Idee mit dem Heimweh, oder dem Sehnen nach anderen Orten / Zeiten, und so war das "Wortspiel" flo will zu dir com geboren. Ich hatte ehrlich gesagt nicht erwartet, dass die Domain noch zu haben wäre, aber nein willzudir.com als auch will-zu-dir.com waren noch nicht vergeben!
Da konnte ich mich dann wirklich nicht mehr zurückhalten und hab mir kurzerhand die erstere registriert ;-) Und mit meinem Namen jetzt als Subdomain, har har, lustich lustich, hab ich nun auch ein Wortspiel 2.0 als URL, und eine mindestens genauso dolle Emailadresse flo Affenschwanz willzudir.com
Achso, zu wem oder was ich kommen will, und was passiert, wenn der Countdown abgelaufen ist, daaaaaaaaas ist natürlich streng geheim ;-)
Übrigens, wer gern eine Subdomain und/oder Emailadresse haben möchte — einfach mir schreiben, ich helfe gerne (und natürlich kostenlos) weiter :-) nico Affenschwanz willzudir.com ist schon weg.
If life was fair, Elvis would be alive and all the impersonators would be dead.