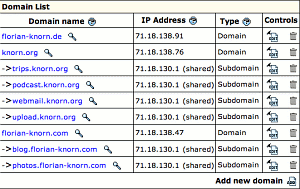 So, jetzt ist der Umzug wirklich abgeschlossen. Hab jetzt eine ganze Latte an Domains und vor allem Subdomains am Start.
Auf dem IFAT Server hab ich alle Seiten auf Redirects reduziert.
Bei meinem Hostingdeal gibt's ja 6 Top Level Domains (www.example.com), und 200 Subdomains (subdomain.example.com).
Im Moment habe ich folgende eingestellt — aber da können problemlos noch einige hinzukommen ;-)
Get behind early so you have plenty of time to catch up.