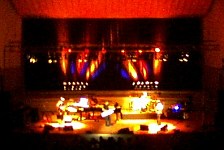 I would never have thought it, but being at the right time in the right city, I had the opportunity last Friday to see Herbie Hancock live and direct here in Berlin.
Although the tickets were fairly pricy (the cheapest started at 38 EUR), in my book, it was worth every cent. Even if this guy is 66 years old, you couldn't tell neither by his looks, the energy he radiated, the humour he showed nor the music itself. (By the way, that's him on the center of the stage with the guitar like keyboard I forgot the name of).
In a single word: it was as massive. No comparison in quality to anything I've ever heard, when it comes to a jazz combo. Of course, this was also due to the other musicians he played with: Vinnie Coleiuta (a particularily famous drummer), Nathan East (an impressive bassist and singer) and Lionel Loueke (I didn't know him, but geez, he was a genious too).
Among the pieces they played were classics like Cantaloupe Island, Watermelon Man or Chameleon as well as more recent songs.
Being good at being stupid doesn't count.