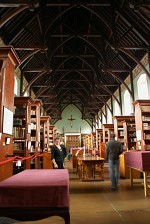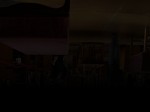 Gestern waren wir mal die Russell Library besuchen, die sich auf dem Süd Campus im Südflügel des beeindruckenden St. Mary's Square des Maynooth College befindet.
Das witzige war, dass ich direkt neben diesem (von außen einfach nicht sicht– oder erahnbaren) "Saal" jeden Morgen brav mein Frühstück in der "Pugin Hall" gemampft hatte, als ich noch in der Gästeunterkunft war.
In dieser ehrfürchtigen Bibliothek sind z.T. steinalte (mind. >160 Jahre) Bücher, gälische, lateinische, französische und englische Manuskripte, Incunabula, Pamphlete, Bibeln, Karten, architektonische Pläns & Zeichnungen, etc. aufbewahrt. (Ich konnte nur unter Einsatz meines ganzen Charmes von der Bibliothekarin die Erlaubnis für 2 Photos (natürlich ohne Blitz) ergattern.)
Ein bissl hat mich der Saal an den berühmten "Long Room" des Trinity College in Dublin erinnert, wo auch das "Book of Kells" aufbewahrt wird. Wer mal in Dublin ist: unbedingt anschauen!
Wrinkles: Something other people have. You have character lines.