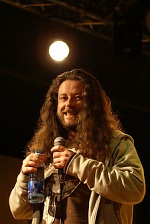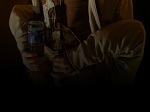 Hier wird kein Abend verschwendet :-) Gestern Abend hatte ich mich seit langem mal wieder bekochen lassen (sonst koch' ich ja immer ;-) man muss mir den Löffel schon aus der Hand reißen ;-)). Alicia, eine nette Französin, hat lecker борщ (auf Deutsch "Borschtsch") gekocht — ihr langjähriger Freund ist Weißrusse, von dem hat sie das. Das war erstaunlich lecker, vor allem, wenn man die simplen Zutaten bedenkt!
Danach ging es dann in die SU (also… Students Union), wo ein Comedy–Abend an stand. Verschiedene Künstler aus Irland — und sogar einer aus den USA — boten ein mehr oder weniger lustiges Programm dar. Wir fanden eigentlich nur den letzten so richtig witzig…
Außerdem hatte auch noch die gute Carina ihren Abeschied gefeiert — für sie geht's wieder zurück nach Deutschland (sie war nur das WS über hier, ist aber noch ein bissl länger geblieben).
A study in the Washington Post says that women have better verbal skills than men. I just want to say to the authors of that study: Duhh!!