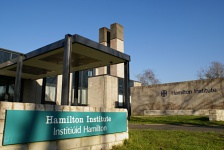 Ok, wie angekündigt geht's ab jetzt wieder in Deutsch weiter — es scheinen doch deutlich mehr Leute mitzulesen, die kein Englisch verstehen, als Leute, die kein Deutsch verstehen…
Also, ab jetzt bin ich wieder wie gesagt in Irland, für zwei Jahre das ganze, um mit meiner Doktorarbeit weiterzukommen. Worum's da geht erkläre ich lieber ein andern Mal ;-) Wie schon vor 18 Monaten (ich hatte damals meine Studienarbeit hier geschrieben) bin ich wieder am Hamilton Institute angestellt; wie damals auch werde ich wieder von Prof. Robert Shorten — "Bob&rdquo — betreut.
Noch sind meine 3 Kisten, die ich per Hermes verschickt hab, nicht hier, aber ich hoffe mal, dass die in der nächsten Woche eintrudeln. Bin ja nach wie vor eh noch wohnungslos, die Damen in der Wohnheimverwaltung warten ja noch darauf, dass ich Ihnen meinen Stundentenausweis zeige (ich kann mich aber nur mit der Hilfe der liebe Rosemary, unserer Sekretärin, einschreiben — und die kommt erst am Montag wieder). Ich hoffe (bete), dass noch was frei ist irgendwo in den Wohnheimen. Auf außerhalb Wohnen hab ich echt keinen Bock mehr…
Chickens: The only creatures you eat before they are born and after they are dead.