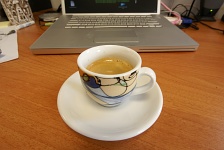 Mitte Januar hatte ich von Markus Kaes (a.k.a. Chillerstadt) ein Stöckchen zum Thema Kaffee zugeworfen, auf das ich nun endlich eingehen möchte.
Aaaalso, Kaffee trinke ich zwar schon seit einer ganzen Weile, lange Jahre aber nur in äußerst geringen Maßen (im Mittel vielleicht 1 Kaffee pro Monat). Seit ich allerdings in Berlin an der TU angestellt war, hatte sich dies geändert. Dort ging nämlich mehr oder weniger die geschlossene Arbeitsgruppe in die Mensa, und danach ins Balzac Coffee — wo die meisten einen einfachen, aber einfach leckeren Espresso trunken. Also wurde ich im Prinzip durch Prof. Raisch infiziert, der diesen Brauch wohl startete.
Tja, und seit dem trinke ich so gut wie jede Mittagspause nach dem Essen noch einen Espresso. Hier am Hamilton Institute ist das ganze mit 50c noch am günstigsten (wobei der Espresso wirklich gut schmeckt, dafür, dass er aus einer wahnsinnig teuren vollautomatischen Machine kommt). Oder sagen wir so: er genüg meinen Ansprüchen völlig ;-) Ich trinke dabei einen Single Espresso, kleinste einstellbare Kornmahlgröße, extra strong.
A conclusion is the place where you got tired of thinking.