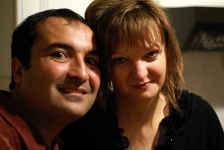 Hach ja, langweilig wird einem hier nicht. Wie damals gibt's hier jeden Abend mindestens eine Party, wo man hin kann (sollte)… Gestern war mal wieder bei Bernard, einem Erasmus Studenten, eine "internationale" Party.
Zudem hatte Mehmet auch noch seinen Abschied gefeiert, ein Kollege von mir, der auch schon vor 2 Jahren hier war, und mit dem ich letztes Jahr auch an dem Daimler Projekt zusammen gearbeitet habe.
Beide Parties waren wie immer nett (ich bin ja sowie ziemlich genügsam, was Parties angeht, d.h. ich kann mich ja fast überall amüsieren), und ich wünsche Mehmet alles gute für die Zukunft!
A skeleton walks into a bar and orders a beer and a mob.